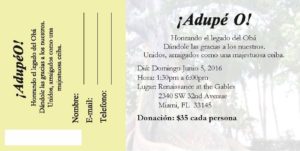 Okú ó!
Once again, Oloshas United, Miami, is honored to host a celebration to express our humble appreciation to our own, "Adupé ó: Honoring the Legacy of the Obá."
This celebration will take place June 5th, 2016, at 1:30 PM, at the Renaissance at the Gables Banquet Hall. Tickets are $35.00, and include appetizers, dinner, open bar for 3 hours, and several artistic presentations.
Oloshas United is honored to present one of our own: the celebrated Grammy-nominated musician, Philbert Armenteros and Los Herederos. In addition, this year we count with the celebrated Cuban diva, Malena Burke, who shall delight us with a her customarily amazing musical performances and her exceptional talent.
This promises to be the social event of the year. Don't miss it!
To purchase your tickets, contact the event's coordinator, Iyalorisha Jackie Ben: 305-305-0817 or email oloshasunited@gmail.com.